Comfort and convenience are the hallmarks of Dr. Haugen & Dr. Siehoff office operations. To ensure your convenience below is the information you need about our hours, location, appointment scheduling, insurance acceptance, and billing.
Erin Haugen, DDS
Mariela Siehoff, DDS
10202 W. Hayes Ave
West Allis, WI 53227
Phone: (414) 321-2720
Office Hours
Monday:
Tuesday:
Wednesday:
Thursday:
Friday:
Saturday:
Sunday:
08:00 AM - 07:00 PM
08:00 AM - 08:00 PM
08:00 AM - 04:00 PM
07:30 AM - 04:00 PM
08:00 AM - 04:30 PM
Closed
Closed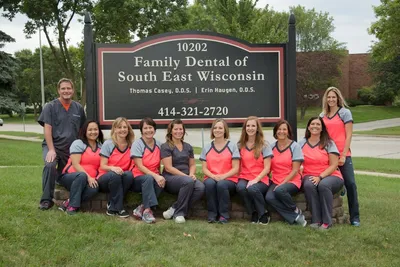 Appointments
We confirm recall appointments as a courtesy to our patients, 6 days prior to the appointment. We ask that you also give us 48 hours' notice if you need to change your appointment. We charge for missed appointments.
Copayments are collected at each appointment.
All minors need to be accompanied by a parent or guardian as we need your permission to treat them.
By law, all patients must have a yearly exam by the dentist. There are some days when no doctor is available. If you have not had an exam within the last 12 months, your appointment will rescheduled.
We try to accommodate late arrivals; however, we may have to reschedule your appointment depending on treatment time reserved for you.
Insurance and Billing
We participate in several insurance plans. Our office will do everything possible to help you understand and maximize your dental insurance benefits. The goal of most dental insurances policies is to provide basic care for specific dental services. The benefits that you receive from the dental insurance company for your insurance plan have nothing to do with your needs or achieving a high quality, complete result. Many needed services may not be covered. We recommend that you read your policy so that you are fully aware of coverage and any limitations of the benefits provided.
Payment Options
We are committed to providing our patients with the highest quality of care and service. Our fees are the same for insured or uninsured patients. As a benefit and convenience to our patients we will file your insurance claims. All copays or non-covered expenses are collected at the time of service.
Your healthy smile is very important to you, as well as your comfort with your investment, so we offer several options as to payments:
Cash or personal check
Visa, MasterCard or Discover
HSA or flex spending cards
Facilities and Equipment